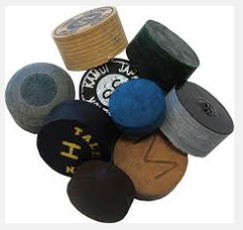 As we said before … there are a lot of them! Back in the old days you could choose between 3 or 4 different types, but now every year they invent new brands, new qualities with different colors and different density and hardness.
Its hardness is being determined in the factory in the pressing process. The harder it is being pressed, the harder it gets.
It is important that you try out different tips to see how the white ball react to it and as well how it sounds and feels.
Should you buy a whole box of tips, know that although the same tips, they can vary a lot in hardness. You can notice the difference yourself by scratching with your fingernail over the tip. The higher the pitch the harder it is.  Good listening is required!
REACTION
While cueing, the softer tip will get pressed in more than the hard one. Absorption will be intensified and therefor will respond less in a straight forward direction. With a hard tip, during contact, the tip will get pressed in less and there for will react quicker forward. There are some variables of deflection as well while playing with left or right hand side. Good players can notice the difference immediately. With soft tips the deflection will be bigger as to the harder ones. The difference might be small, but still can be decisive.
Here we show an enumeration of different types in relation to their hardness and pressing.
BRAND

Diamond + (Buffalo)
Elkmaster (Tweeten)
Royal Oak
Bluediamond (Brunswick)
Everest
Le Pro
Talisman
Triumph
The Majestic
Triangle (Tweeten)
PRESSING

60,1/100
66,5/100
68/100
75,1/100
76-80/100
77 en 76,3/100
76,9/100
77,4/100
81,4/100
HARDNESS

soft
soft medium
medium
medium
medium
hard medium
hard medium
hard medium
hard medium
hard
Most of the manufacturers of pool and billiard tips have tried to invade the snooker market. For  the last decade we encountered new brands like Moori or Kamui. They are layered laminated tips. While making their entrance with very hard tips, we now see they are adapting more to the need of the market by extending their offer excessively with medium and soft tips.