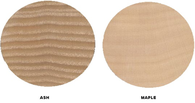 We already mentioned maple and ash.

They both are used for the shaft of the cue, or for the one-piece for the entire length of the cue.


For a reason quite often tropical wood is used  at  the back end of the cue. Most of these types of wood are a lot heavier than maple or ash, so there is not an extra need to put in extra weight in the butt of the cue. And with regard to the aesthetical part tropical wood can contribute to your personal flavor, touch or prestige.
We present to you a few examples. We added a picture of the tree as well. (click to enlarge)  

---
---
---
---
---
---
---
---
---
---
---
---
---