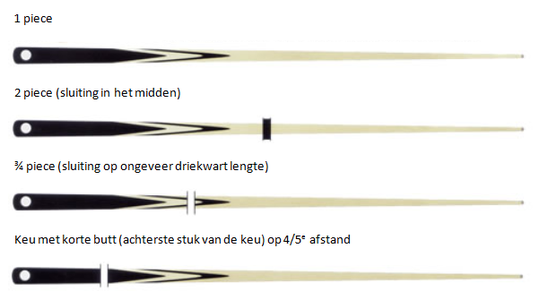 Hierboven zie je de enkele basisversies van keuen met en zonder sluiting.
1 PIECE
This cue has no joint. It is a long piece of wood without interruption.
It is claimed the one-piece cues best because it transmits all cueing intentions for 100% for it does not come across any  interruption of different material within.
Short disadvantage may be its length during transportation as some of the cue cases are hard to fit into a car.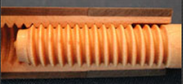 2 PIECE
In the early days cues were made with standard joints in the centre of its length. In order to maintain a proper connection, cues were provided with a wooden joint as in the picture above. But nowadays joints of different materials are inserted, providing a minimum loss of transmission.

This 2-piece version has been very successful up till now because it fits into a smaller cue case and is very easy to carry. First cue cases only contained the cue, but later versions were produced adding the classic extension to slide the cue in so you could reach longer distance on the table.
3 PIECE   (3/4th and 4/5th)
This is the cue most players use. Mainly the shift form 2-piece to 3-piece took place because they started changing the materials used for joints. Nowadays they are heavier. In order to preserve the correct balance of the cue the joints had to be shifted to the backend of the cue (nearing ¾ or 4/5 length of the cue). 
Using heavier joints it also was recommendable to have them inserted in a wider diameter of the cue and not in the centre where it has a smaller diameter.
This cue provides lots of possibilities in terms of length as there are many different extensions that can be connected to it. With a suitable case it is longer than the 2-piece but still very pleasant and easy to transport.